And the Winner of Best Book of the Year is… determined by YOU!
Congratulations to our three finalists for the Outskirts Press 2020 Best Book of the Year award: Life in the Morgue by Lance Anderson, Musings from Cowboy Country by George Rhoades and Whispers of Love by Gina Simone. All three books took home first place awards from this year's EVVY Awards, qualifying the authors for Outskirts Press highest honor!
While each of these books has achieved great heights, the highest honor of Best Book of the Year is determined by… YOU! So, study your choices, order their books, visit their webpages and social media and cast your vote. Public voting will begin Monday, September 21st on Self-Publishing News and will close promptly on Thursday, September 24th at 11:59 PM Mountain Time.
These works are impressive and it's going to be an interesting sprint to the finish! Here's a recap of the finalists:
When Greg Benson took a job as a morgue technician, he was told on his first day, "You can't make this stuff up." What an understatement that turned out to be…From his first autopsy (a teenage girl), deaths by accident and homicide, dumpster removals, subway electrocutions, and ghostly activity, this job was anything but normal. Just when Greg thought he had seen it all, something else would take place-and it wasn't only the cases being brought in… Take a rare peek into the life of a morgue technician in this fascinating foray into Life in the Morgue.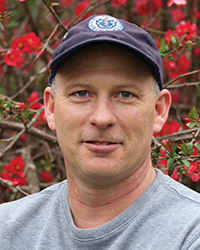 About Author Lance Anderson
Lance Anderson spent most of his life as an ironworker until he decided it was time for a change. He took a job at the medical examiner's office, where he worked for six years and assisted in more than two thousand cases until he was forced to retire due to vision problems. Life in the Morgue is his debut novel, but he has also written two movie scripts that are in the process of being produced.
Buy from Outskirts Press: https://outskirtspress.com/lifeinthemorgue
Buy from Amazon: https://www.amazon.com/dp/1977216242
---
Poetic musings from award-winning Western poet George Rhoades about cowboys, ranch and farm life and assorted subjects— some humorous, some philosophical, some serious and some not-so-serious.
About Author George Rhoades
Rhoades is the author of Along the Chisholm Trail and Other Poems and After the Chisholm. He is winner of numerous poetry awards, including the IBPA Benjamin Franklin Award, Will Rogers Gold and Bronze Medallions, Readers View First Place Award, Indie Excellence Book Award Finalist and Western Music Assoc. Poetry Book Finalist, and other accolades. Born on a farm in Cotton County, Oklahoma, Rhoades has been a rancher, a reporter/editor for UPI and Oklahoma newspapers and a college journalism professor. He retired from UT-Arlington and moved to Duncan, Oklahoma, where he owned a hay farm.
Buy from Outskirts Press: https://outskirtspress.com/musingsfromcowboycountry
Buy from Amazon: https://www.amazon.com/dp/1977209297
---
Death is never final—and you are never alone …From a young age, Gina knew she was different. She could never safely share her reality with her family—the reality that she could see and communicate with Spirit. But as she matured, she realized her life's calling as a Spirit Medium was to help people connect with deceased loved ones. With warm, witty honesty, Gina shares landmark moments in her own life—from embracing the gift that was so misunderstood in her early life, to the devastating death of her 27-year-old son. Whispers of Love will introduce you to the messages, signs, and specific ways that Spirit and loved ones share their language of love. Are you struggling with storms in your life that you can't overcome or has the weight of unbearable grief brought your life to a halt? With understanding messages from Spirit and your loved ones always around, finally hope can arise from heartbreak. Truly inspired, Whispers of Love compassionately introduces you to a deep exploration of why we are here, how to connect with Spirit, and how we can find meaning in life's hardest challenges. Gina teaches us the impressive lesson that remaining frozen in pain is not the path to freedom. We must embrace our lives with Spirit on board so that every step can unfold in Divine order, with less drama and perhaps even a new found perspective on grief.
About Author Gina Simone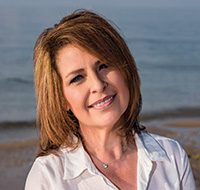 Gina Simone is a Spirit Medium certified through the Forever Family Foundation. At the age of 11, she began to notice and feel Spirit and energy around her. Not knowing what these gifts were, she always felt different and isolated. A traumatic pool accident with her toddler son catapulted her into finding the meaning behind life, Spirit, lessons, and karma. She left a comfortable corporate finance career to answer her calling to connect you with your loved ones and with your own innate intuition and higher consciousness. She has been a featured medium on Gwyneth Paltrow's GOOP.com, has been voted Long Island Best Medium several years in a row, and is also a featured medium on WBLI 106.1 morning show.
Buy from Outskirts Press: https://outskirtspress.com/WhispersOfLoveSpiritMessages
Buy from Amazon: https://www.amazon.com/dp/1977216250
---
The Best Book of the Year winner will receive a Grand Prize of $1,500 as a direct result of your choice at the polls. So, come back on Monday, September 21st, to cast your vote!
Are you ready to publish your own award-winning book and perhaps find yourself in the running for next year's Best Book of the Year award? Connect with Outskirts Press now in whatever manner is easiest for you: