As an author in this economy, you have to come up with creative ways to market a self-published book. While book tours are a great way to connect with your readers, they aren't the most affordable method of promotion. However, technology has made it possible for an alternative.
Take note from self-publishing Outskirts Press author, Phillip Rohlin, who is taking his latest book, Accidents, on tour – a virtual book tour, that is. He will be featured on several blogs over the weeks and months ahead so keep your eyes peeled to learn more about him and his book.
---
Luckily for us, Phillip was kind enough to answer a few questions as the tour was getting started so that we can give you a sneak peek into the mind of the creator of Accidents.
OP: Tell us a little bit about Accidents. What is it about?
PR: The book is about attorneys who are embroiled in tough, grass roots street practices which both drain them and bring out creative solutions to the harrying demands of the their work.  One attorney believes there is more to life than what he is doing and he extricates himself and moves to the beach for some isolation and to figure out who he is.  His involvement with the martial arts has taught him to shut-down his mind and explore realities beyond the mundane.  His friends continue to haunt him with their problems, and their missteps bring forth hilarious scenarious with which they all must deal.  The attorney at the beach is having a serious love affair with a beautiful woman who feels he is taking himself too seriously, but his friend, the famous writer Henry Miller, encourages him to continue with his voyage of self-discovery. There is a murder.  There is retaliation.  There is the development of an unlikely cult.  There is lots of fun and some seriously contemplative moments.
OP: Why did you decide to write this story?
PR: I decided to write the book because I felt I had something to say to the world about a person's place in a merciless system that sucks the life out of who you are who you might have been if you could extricate yourself and try to figure things out.
OP: What types of readers would be interested in this story?
PR: I believe that any thinking person who loves humor and is trying to figure out his place in this chaotic world would be interested in my book.
OP: What is special about your book?  What differentiates it from other books in the same category?
PR: I believe my book approaches life on many dimensions.  It looks at the practical world of survival and making a living and explores the inner protests and rebellion of anyone who feels he is being dragged along a path that is counter to his or her inner creative inclinations.  It explores necessities on both the practical and spiritual levels of existence and is completely relevant to our times. It will be fun lawyers who deal with the rough and tumble world of client resolution, and to anyone else who is fighting to discover his true calling in an insensitive and sterile world.
OP: Have you published any other books? Do you plan to publish more?
PR: This is the first book I have published and I would like to do a sequel.
OP: Thanks for your time, J.C.! We look forward to learning more about you as you visit other bloggers!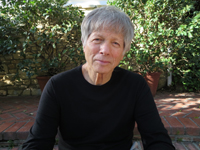 ABOUT THE AUTHOR:
Phillip Rohlin graduated with honors and a Doctor Of Jurisprudence degree from UCLA Law School and became a Deputy Attorney General for the State of California working under Attorney General Stanley Mosk preparing criminal appellate briefs in response to appeals from convictions at the trial court level. He then worked as a trial lawyer for a large defense firm that represented insurance companies. Thereafter, he opened his own office. He studied Tae Kwondo Karate with a famous master for thirty-three years and has a third degree black belt. He has competed in numerous Los Angeles city karate tournaments. He lives in Los Angeles with his wife and two daughters.
.
.
For more information or to contact the author, visit www.outskirtspress.com/accidents
This author purchased the Virtual Book Tour marketing option, which allows self-publishing authors to connect with bloggers and harness the power of the blogosphere by taking their book on the "virtual road".  Learn more about this service by visiting your Publishing Center and reviewing the available marketing options.
Are you an author looking for help to market your self-published book?